A WAKE UP CALL TO THE BODY OF CHRIST!
I woke up with such a burning in my heart.  Holy Spirit is stirring up some things in my spirit He wants to say to His people.  What He is revealing to me is not a coincidence as I begin this new focus for the week: STEWARDING YOUR TEMPLE (BODY) in 30 Days to Breakthrough. Today is Day 21: OVERVIEW OF WELLNESS.
The Lord showed me why the body of Christ is not entirely well or whole.  He connected all these dots.  This is not even the two-way journal response He gave me for an Overview of Wellness.  This is the picture he painted.  It is a very strong message and the church must WAKE UP! Even God's own elect are being deceived by man's traditions (and way of doing things) and religious spirits.
WAKE UP CHURCH!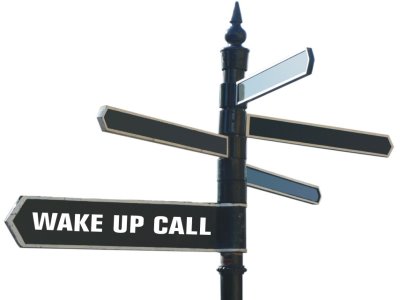 Jesus replied, "Foxes have holes and birds of the air have nests, but the Son of Man has no place to lay his head."  (Mathew 8:20).
The Son of Man is looking for a place to lay His head, meaning to attach His head ( headship, rule and authority) to His body.  However, today, as in the days of His disciples, they were not ready or in position to hear/receive/accept the truth, let alone walk in it.
Many in the body of Christ are trying to operate in the things of God without God's power and authority flowing through them because they are not solidly attached to the Head.  They are double-minded.  They are disconnected but think they are connected!  They are deceived thinking they are doing things God's way but they are not.  God is not going to release His anointing and blessings to flow through those who are not rightly representing Him or doing things according to His Word.
Now more than ever we need to be in unity and walking with Christ as His body in order to overcome this corrupt world system.
"But know this, that in the last days perilous times will come: For men will be lovers of themselves, lovers of money, boasters, proud… and so on… Having a form of godliness but denying its power, and from such people turn away!"  (2 Timothy 3:1).
Man is trying to meet his own needs in his own ways while squeezing God out of the equation.  This system is called materialism: meeting our needs without God.  There is still too much of the world's Babylonian system mixed in with the Kingdom way of doing things.  We can't have it both ways and expect to receive from God.
"But seek ye first the kingdom of God, and his righteousness; and all these things shall be added unto you."  (Mathew 6:33)
God has made a way to provide for all of our needs according to His riches in glory.  (Philippians 4:19).  His name is Jesus.   We are either going to do it His way or we will be sorely lacking.  We must take our stand and it must be pure.  Are we going to stand for God and His Word or not?
"No one can serve two masters. Either he will hate the one and love the other, or he will be devoted to the one and despise the other. You cannot serve both God and Money." (Mathew 6:24).
Too many in the body of Christ are sick, broken, and broke financially.  They are not experiencing wholeness and wellness in their bodies, family, relationships, church/ministry, finances, marketplace, school etc.
"Is any sick among you? Let him call for the elders of the church; and let them pray over him, anointing him with oil in the name of the Lord." (James 5:14).
The church is not operating in the fullness of God's healing power and that must and will change.  All that came to Jesus were healed because they believed the living Word.
"Do not be deceived: God cannot be mocked. A man reaps what he sows."  (Galatian 6:7).
I was reading in Revelation 2:18-29 about the church in Thyatira, the corrupt church.  In my bible notes it said of this church:
Commendation: Love, service, faith, patience are greater than at first.
Criticism: Tolerates cult of idolatry and immorality.
Instruction: Judgment coming; keep the faith.
Promise: Rule over nations and receive morning star.
Study it for yourself.  It speaks of a morally compromised church in a commercial city that tolerated a cult of idolatry and immorality.  We must ask ourselves if we have any idols in our lives.  Anything we put ahead of God is an idol.  A few examples are: the love of money, modern technology or social marketing gurus and their strategies.
Other idols could be making self your own god and working to meet your own needs, your job/career, doing good works for God's or man's approval, church programs, sports, covetousness, lust, competitiveness, shopping, recreation, hobbies, gluttony, greed, sexual vice, drugs, pornography, gambling, gossip, unholy desires and on and on.
We must ask ourselves if we are committing spiritual adultery in any way.  Are we being unfaithful to Jesus by pursuing man's worldly ways that seem right in our own eyes?  Are we building our own kingdoms or towers of Babel and placing self or others at the top of the heap instead of Jesus?
Are we devising our own dreams, schemes and plans to achieve massive recognition, power, fame, fortune and influence to get what we want instead of following the Holy Spirit and allowing His plan and provision to unfold and be manifested in our lives?
Clearly in these troubled and perilous days, it is time for the sons and daughters of God to be manifested in this earth.  God's plan is for His body/His people, to be a guiding light to the rest of the world to lead them out of darkness.
We are supposed to be the set-apart ones.  However, oftentimes the church and its ways cannot be distinguished from the world and its way of doing things.  Something has to change. As believers we are called to be like Jesus.  Is that what the world is seeing in you?  Are you walking His way?
Love in Jesus,
Abigail Slocum
A pen in God's hand giving "LOVE" a voice
Abigail777.com
Prayer Power
Psalm 139: 23,24: Search me thoroughly, Oh God, and know my heart!  Try me and know my thoughts!  And see if there is any wicked or hurtful way in me, and lead me in the way everlasting, in the matchless name of Jesus. Amen.
My two-way journal response to Day 22 of 30 Days to Breakthrough: OVERVIEW OF WELLNESS, will be continued in another blog post.